The Dazzling Gold Watch is a hidden item in Honkai: Star Rail that players can find and use to earn a good amount of Credits after enough exploring while on a mission. Described as "A watch that was almost mistaken for a bomb.", the Gold Watch represents an NPC's unique taste. Unfortunately, players will have to use some of their good reputation to unlock this valuable item unless they are confident enough to risk danger.
Unlike more common items such as Ancient Parts in Honkai: Star Rail, a more elusive object like the Gold Watch demands players spend one of their Praise of High Morals. Almost like a morality system of sorts, the game sometimes awards players with Praise when they do good deeds or complete hidden missions. The easiest way to gain Praise comes from exploring areas and talking to NPCs, taking their requests for small quests, and finishing them.
How To Find The Dazzling Gold Watch
The Dazzling Gold Watch lies in the Underground Zone of the Administrative District region, a place that becomes free to explore after players finish the "No Time for Me, My Friend" Trailblaze Mission. Going through here shows a suitcase lying on a bridge that wasn't there when players were going through the conclusion of the Jarilo-VI story. This mysterious piece of luggage begins making a strange ticking sound when players interact with it.
Players can get the Dazzling Gold Watch by finding a locked suitcase on a bridge in the Administrative District's Underground Zone after beating the boss Cocolia in the game's main story.
While it might seem like this suitcase might be a dangerous bomb, players that choose the "I have to open this suitcase!" dialogue option leads to the choice of spending Praise to open the travel bag. Players can spend 1 Praise or insist on opening the suitcase since there's no time to use the Praise despite the risk. Either way, this unlocks the suitcase and awards the player with the Dazzling Gold Watch, thankfully not exploding.
How To Use The Dazzling Gold Watch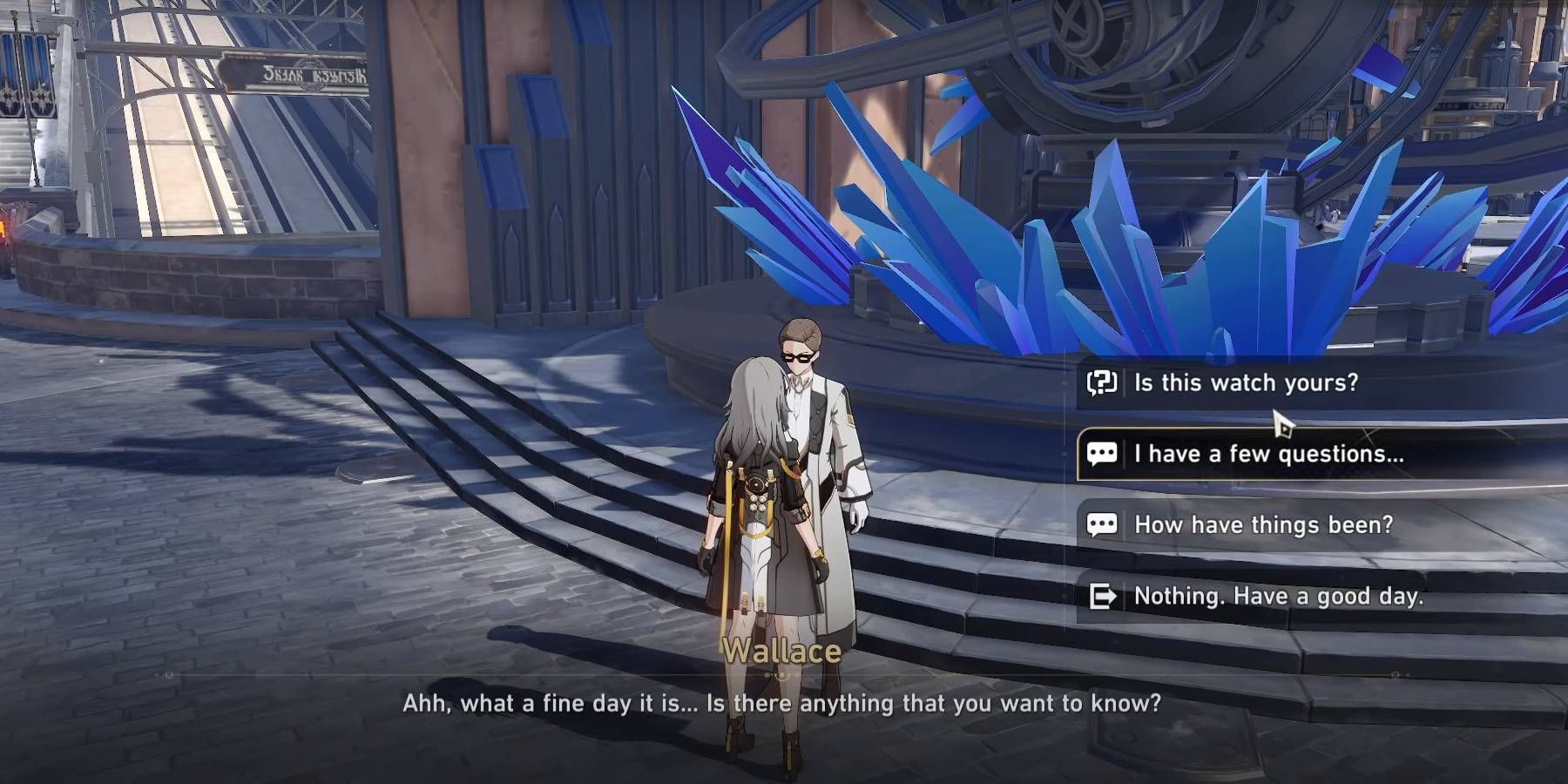 The Watch's owner is a "Pretentious Man" named Wallace, found near the monument in Belobog, close to the city's center. Players might recognize this character from some previous Daily Missions similar to the Ministry of Education Quiz in Honkai: Star Rail that are brought up frequently.
Giving this character the Dazzling Gold Watch rewards players with 5000 Credits, a meager sum that frankly isn't worth spending a Praise on. However, being brave enough to learn how the other option lets players find and use the Dazzling Gold Watch in Honkai: Star Rail makes this hidden fetch quest far more worth it.
Honkai: Star Rail

Platform:

PC, iOS, Android, Microsoft Windows

Developer:

HoYoverse

Publisher:

HoYoverse

Genre:

Turn-Based Strategy, RPG, Adventure

Multiplayer:

Online Multiplayer

ESRB:

Not Yet Rated

Summary:

Set after the events of the ongoing game Honkai Impact 3rd, Honkai: Star Rail is a turn-based online RPG from developer Hoyoverse. Two members of the Astral Express, March 7th and Dan Heng, are on their way to the Herta Space Station with precious cargo when ambushed by members of a group known as the Antimatter Legion. Chaos ensues as among them is the god of destruction known as Aeon, who steals a seed known as a Stellaron, which they implant in an artificial human known as the "Trailblazer." Players will assume the role of this character as they try to avoid their fate and save all of civilization. Similar to gacha-style games, players can acquire more characters to add to their party by summoning and engaging in fast-paced turn-based battles in this epic Sci-fi online RPG.